Squeeze Mobile Chair Massage Vancouver
WHAT IS SQUEEZE?
Squeeze Vancouver is a locally owned mobile chair massage business. Certified chair massage professionals come to your business, office, or special event and treat you and your staff to a relaxing, clothed and seated massage.

A short massage is a great way to re-energize your staff and an inexpensive way to treat your entire office!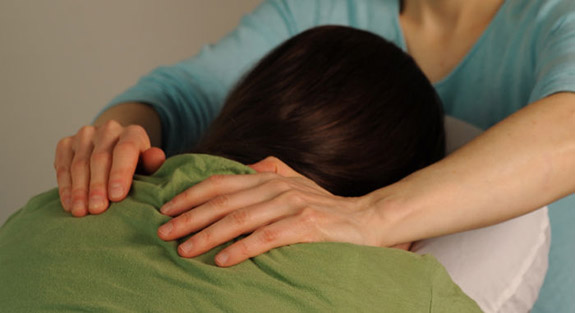 And chair massage isn't just for the office either. We go to trade shows, bridal showers, golf and other sporting events, or any other event you want to make fun, relaxing, and memorable.
SQUEEZE VANCOUVER IS HERE TO HELP!
Chair massage is a respite, a chance to relax and re-energize. And best of all, we come to you and work around your busy schedule. Certified chair massage professionals have been trained in relaxation massage (a combination of Swedish and shiatsu massage techniques) and use special ergonomic padded chairs that can accommodate just about everybody.

Massage is normally focused on the back, shoulders, neck, arms, and hands, depending on the amount of time, and can be tailored to the individual. The massage is enjoyed fully clothed and no oils or lotions are used. Squeeze Vancouver is very serious about client comfort and will always ask if you have previous injuries or sensitivities that might affect you during the chair massage.

Depending on your needs and the size of your group, the massages can last anywhere from 5 to 30 minutes. This is a decision you will usually make depending on how much time is available and on how many in your group want to enjoy a fantastic chair massage.
WHO SQUEEZES?
Leslie Carroll and her team of chair massage professionals have a wealth of experience working on those tough shoulder knots, tense muscles, and helping to relieve stress.

Have a big office with lots of staff to treat? Planning a convention, wedding, or big meeting? Not to worry, certified and insured chair massage professionals are great at working in teams. Just give us a bit of information, and we will figure out how many massage professionals you need.
WHY WE DO IT
Being hunched over a desk or standing for hours at time, worried about a deadline, or just feeling worn down by everyday stress will take a toll on anybody. Leslie believes that massage is an effective approach to stress relief, and has turned massage skeptics into massage enthusiasts in the course of her work.

Want more information on workplace massage, what it is, how it works, and why companies choose to offer it? Check out this great article from the Globe and Mail

Massage has been proven to increase relaxation and efficiency of workers, as well lower depression and stress rates when applied in a short session during the work day: Field, T., et al (1996). "Massage therapy reduces anxiety and enhances EEG pattern of alertness and math computations". International Journal of Neuroscience, 86, 197-205. "Adults were given a chair massage, and control group adults were asked to relax in a chair for 15 minutes, two times a week for five weeks. Frontal delta power increased for both groups, suggesting relaxation. The massage group showed decreased alpha and beta power, and increased speed and accuracy on math computations. At the end of the five-week period depression scores were lower for both groups but job stress scores were only, for the massage group."
WHERE AND WHEN
Squeeze Vancouver is mobile! Chair massage doesn't take up a lot of space and is non-intrusive. It can be set up right in your office, trade show booth, golf tournament, bridal shower, or just about anywhere for that matter.

We don't serve just Vancouver either! You decide on the location and set the schedule. Call us (604-313-3816) or email for scheduling and any questions you may have.
HOW MUCH?
Chair massage generally costs $85 per hour, with a minimum booking of three hours. Prices include travel to the work site (unless outside Vancouver and immediate suburbs, then a small surcharge may apply), massage equipment and supplies, relaxing music, and sign up sheets for you to print. Often companies or organizations will pay for the service, or share the cost with employees, or individuals can pay by the minute.
SEE WHAT WE SQUEEZE